Modern cooking in a pressure cooker ECG MHT 1661 Pressione Nuovo.
Delicious beef goulash is a traditional Czech dish that requires a traditional way of preparation. In practice, this means that the preparation of this type of food also requires time. It is these dishes that are best and faster prepared in pressure cookers. However, many of us have a respect or perhaps a slight concern when watching a hissing pressure cooker also called "Papin pot" on a hot stove or cooktop. The revolutionary solution is the multifunctional pressure cooker with automatic operation. It is just this product that was introduced to the market by the ECG brand under the name MHT 1661 Pressione Nuovo during this year. Responses from both amateur chefs and professionals are more than positive and the pot, which offers a wide range of uses, is building its position very well in the dynamically developing multifunctional pot category.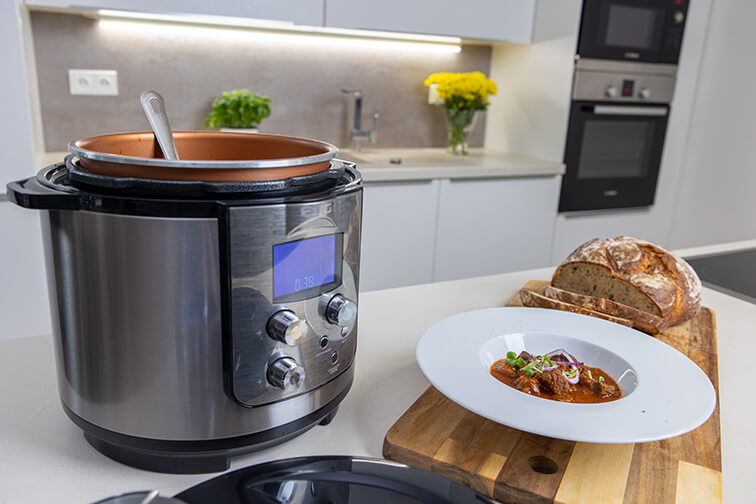 The development of this modern fully automatic helper was not entirely simple and entailed numerous tests, where the pot functions were verified in practice. We can say now that the food preparation in this multi-purpose device is truly easy and safe. The safety issue was one of the most widely questioned during the development and testing discussions. Thanks to two valves, one operating and one safety, the pressure is always under control. The outer shell structure of the pot is designed so that the temperature on the outer walls of the stainless steel shell does not exceed 50°C .
Truly, this capable device can handle many different cooking methods. 12 preset modes also adds to the simplicity of use; they are selected on a large control panel, dominated by a large graphic display. From the list of options we can mention, for example, the so-called slow cooking, that is a slow preparation of food at low temperature. The range of cooking temperature for this universal kitchen professional is from 40°C to 160°C. One of the characteristic pot features is the user-friendly maintenance and cleaning, which always follows cooking. All the essential parts can be removed, easily dismantled and after washing easily reassembled. The 6-liter inner pot has a non-stick surface and can be completely removed from the device. Culinary enthusiasts will be pleased with the manual setting option that opens up possibilities for experimentation and gives the chance to create new procedures and recipes.