Invite helpers into your home with whom regular cleaning is a breeze. The ECG brand has just introduced four new cordless vacuum cleaners to help you tidy up faster, easier and more comfortably.
All four vacuum cleaners, which have recently enriched the ECG home appliance portfolio, have one thing in common. These are cordless vacuum cleaners that do not require a power cable to operate. They function using a rechargeable battery, so you don't pull behind you any annoying cable when cleaning; you have a complete freedom of movement and last but not least you can say goodbye to the aggravating switching of the vacuum cleaner plug from one electrical outlet to another.
And one more thing is common to all new ECG vacuum cleaners. Each of these practical appliances can be easily transformed from a classic vacuum cleaner into a smaller handheld vacuum cleaner, with which you can easily get rid of the dirt from the sofa, interior of a car or around the dining table.
However, let's introduce the individual models of the new cordless ECG vacuum cleaners in a little more detail.
ECG VT 6220 2in1 Power Flex
Cyclone rod vacuum cleaner ECG VT 6220 2in1 Power Flex will delight you especially with its above-standard performance. It has brushless BLDC motor (200 W power, suction power up to 15 kPa), which is not only highly effective, but also very quiet and last but not least energy efficient as well. In order to be able to thoroughly clean your entire household with the ECG VT 6220 2in1 Power Flex, you will also receive a whole range of practical accessories. The floor nozzle has replaceable brushes, you can choose between a brush for carpets or hard floors. The flexible joint of the stick vacuum cleaner ensures easy handling and access to hard-to-reach areas. The vacuum cleaner is equipped also with a wiper pad allowing mopping and a dust brush. When cleaning, it reliably collects all dirt, while not unnecessarily disturbing anyone in the area and also does not put too much strain on your family budget.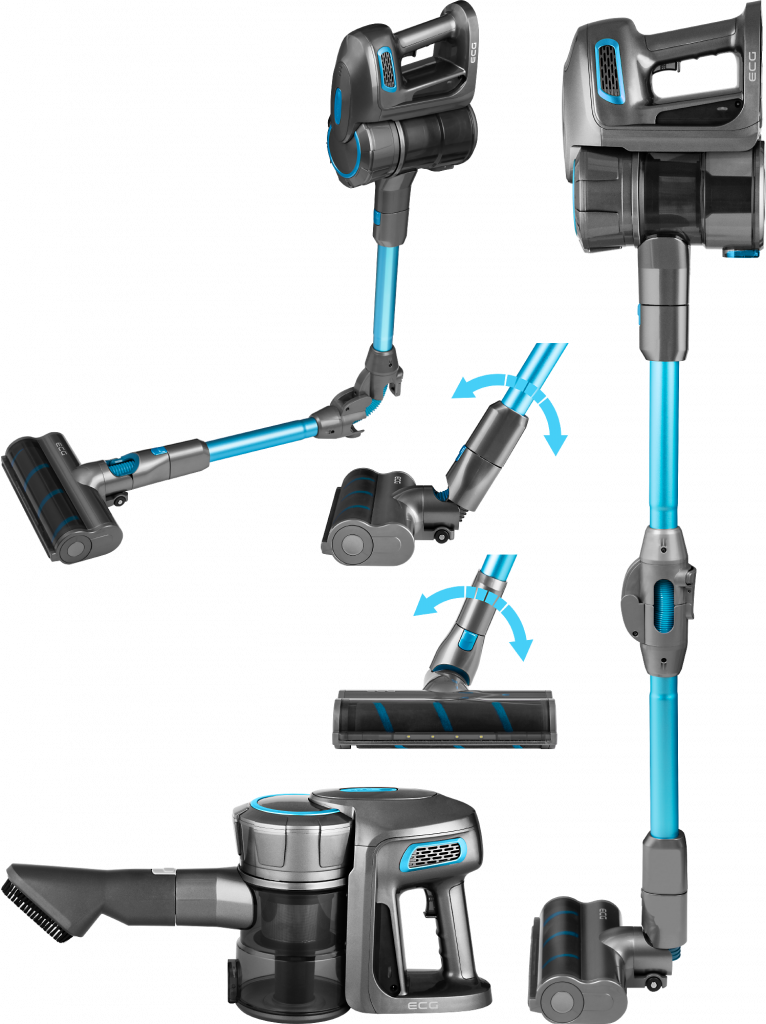 ECG VT 5220 2in1 Flex Clean
The bagless vacuum cleaner ECG VT 5220 2in1 Flex Clean is equipped with an efficient cyclone motor thanks to which it manages to clean hard floors, carpets and even easy chairs. Its advantages also include the ability to mop, which the appliance provides using a special wiper pad. And to top it all, there are also advanced features like LED lighting of the vacuumed area, efficient HEPA filter or suction tube with movable joint, thanks to which you can access hard to reach areas without any problem.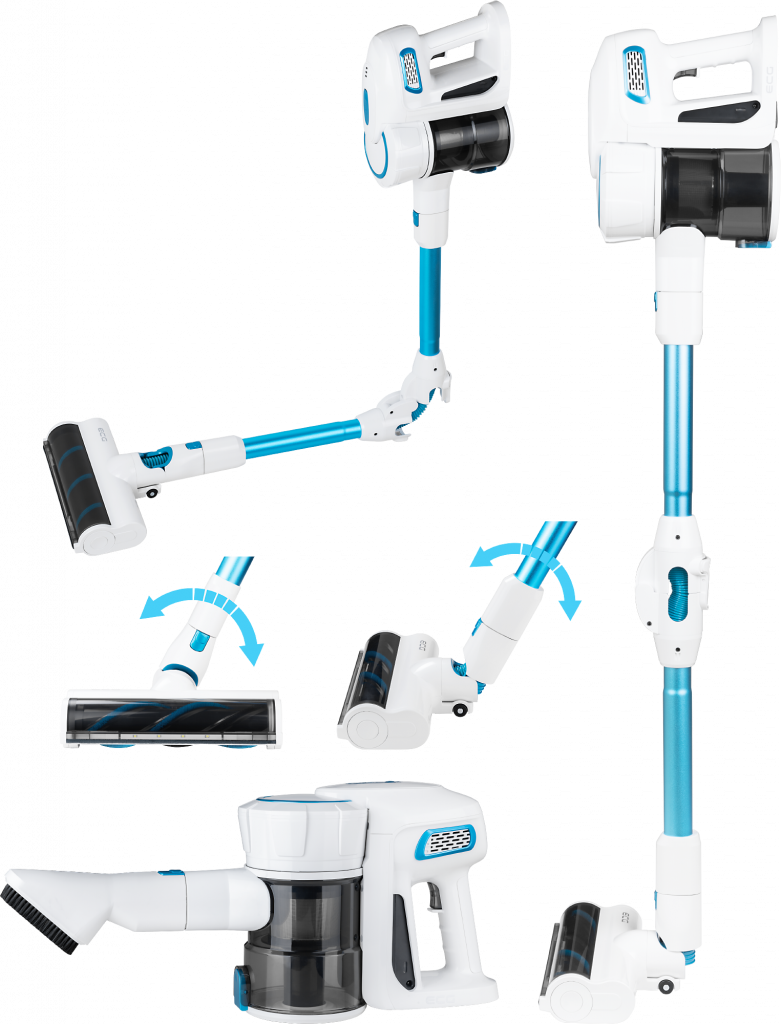 ECG VT 7220 2in1 Simply Clean
You can clean using the cordless vacuum cleaner ECG VT 7220 2in1 Simply Clean continuously for up to 50 minutes thanks to just one charge of the high-quality battery. You don't have to deal with looking for and exchange of bags – the collected dirt ends in the dust container, which can be easily taken out and emptied in the garbage can. The appliance can be also easily folded; therefore it fits into a small closet.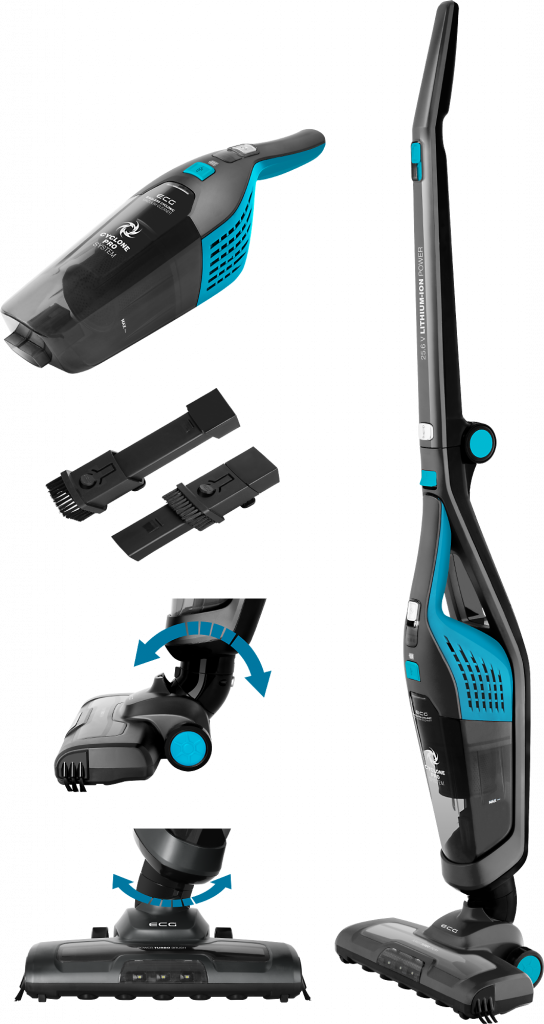 ECG VT 4320 3in1 Multi Clean
Another novelty is the ECG VT 4320 3in1 Multi Clean – a stick cordless vacuum cleaner, suitable for cleaning dry and wet dirt, on all types of floors. It also includes a practical attachment in the form of mop with a water tank and a textile wiper with which you can comfortably mop your home. Of course, there is also the tapered nozzle, which you will appreciate when cleaning in hard-to-reach places.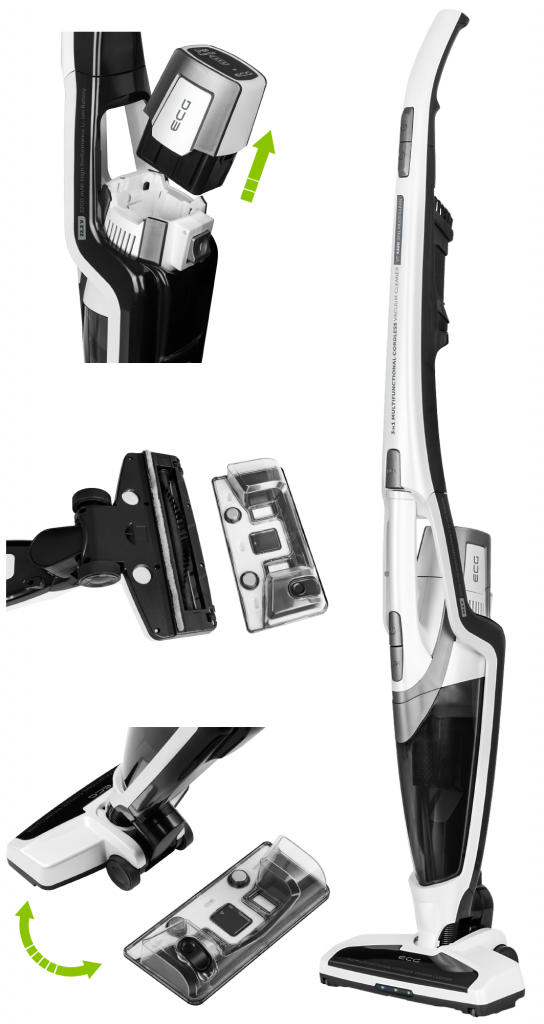 If you just now consider buying a new vacuum cleaner, we believe that you could be interested in our new cordless vacuum cleaners. And if you will decide to purchase one of them, we are sure that you will be satisfied. You will get a reliable helper, with which the regular cleaning will become a more convenient, easier and more efficient activity.