Introducing the ECG meat grinders These are handy kitchen helpers with which you can easily prepare a base for honest-to-goodness homemade sausages, meatloaf and meatballs.


We are greatly honored that we can introduce you to the brand new members of the ECG kitchen appliances family. We are talking here about a pair of electric meat grinders (ECG MG 1310 Simply and ECG MG 2510 Power), whose task is clear – we have created them to help you to prepare meat delicacies where you can be one hundred percent sure of their composition.
In short, the new ECG meat grinders will efficiently grind meat for you. Whether it is beef, pork or poultry, the result will always be worth it. The high performance of our grinders and their high quality components led by grinding blades and hole plates made of durable steel will contribute to the perfect grinding of the selected raw meat. The material used for making the filling bowl, funnel, hole plate and the screw conveyor is also worth mentioning – it is aluminium alloy, which ensures durability and long service life for the above mentioned parts.




Perfectly ground meat
In addition to steel knives and hole plates, both electric meat grinders from the ECG portfolio can boast an efficient motor. Therefore you can grind the meat very effectively, so that you can easily and quickly conjure up the best base at home for the preparation of burgers, steak tartare and even stuffed peppers with tomato sauce.
The best part is that you know exactly what the resulting dish contains. So, for example, if you like foods that have 100% meat, you have complete control over their preparation with our grinders.
In addition, the unique self-sharpening blades as well as the interchangeable hole plates contribute to the effective meat grinding in our grinders – you have available three, a fine one (3 mm), medium (5 mm) and coarse (8 mm). You can easily adapt the operation of the grinder to the type of meat you need to grind.
To keep the grinding process firmly under your control, the ECG electric meat grinders also offer a practical REVERSE function.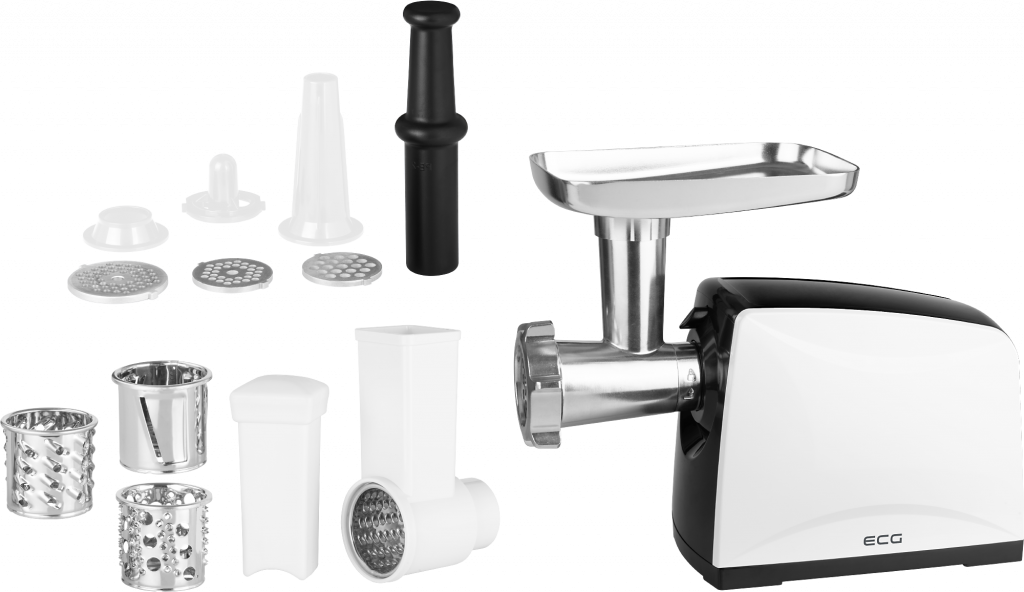 Safe operation, easy maintenance
Using our new meat grinders is safe in all circumstances. This is taken care of by the anti-slip feet, thanks to which the appliance stands firmly on the kitchen counter and also the safety fuse protecting the grinder against overheating.
Among the advantages of our meat grinders is also included easy maintenance. After you have finished making outstanding sausages or delicious meatloaf, you will clean the appliance in a moment.

ECG MG 1310 Simply
The one more affordable of our electric meat grinders is called ECG MG 1310 Simply. It is an appliance which boasts an efficient motor (1340 W) and metal gears. When you process meat with it, you have a choice of 2 grinding speeds, so you can make your favourite meat dishes with a proper discernment.





ECG MG 2510 Power
The higher model ECG MG 2510 Power has also an efficient motor and high quality components. In addition however, it has another major advantage – besides grinding meat you can also easily and quickly grate vegetables or dry bread with it. You will also receive 4 types of graters (coarse, slicing, fine and extra fine) from which you can choose the one which is best suited for the task.
You can forget about tedious, strenuous and annoying hand slicing or grating of vegetables into soup, hard rolls for breadcrumbs or apples into strudel. You are done in a minute using the ECG electric grinder.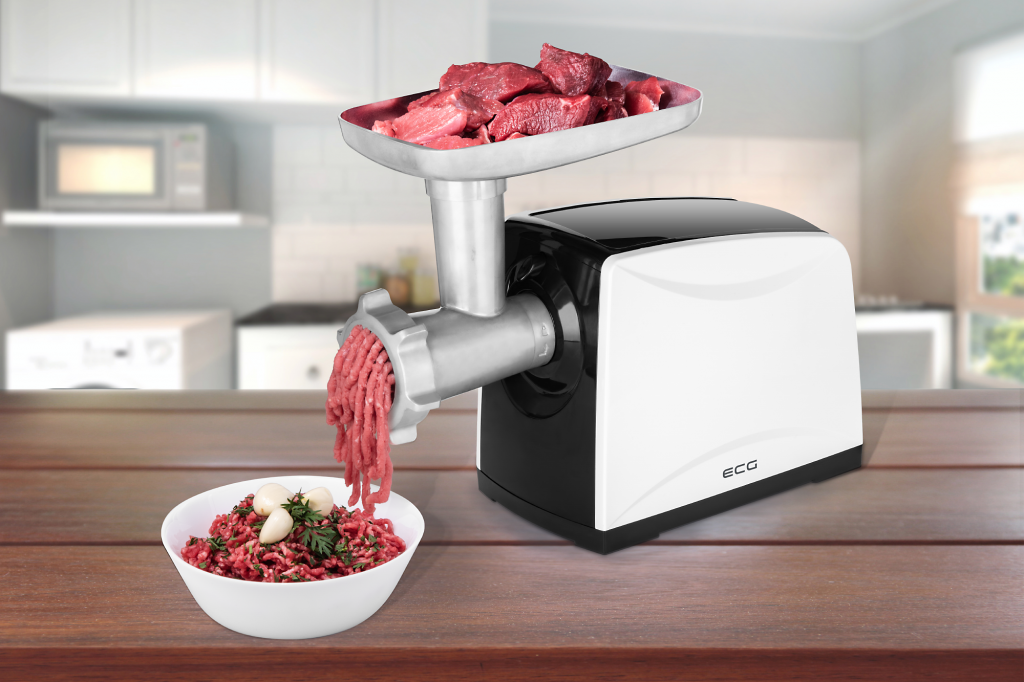 Accessories for easier work
No matter which of our new meat grinders you will choose, you will also receive with the appliance a rich collection of accessories, which will make your work in the kitchen even easier. You can count on a tamper, a classic grinding "auger" and also a special sausage attachment, a kebbe attachment or a separator.
By purchasing an electric ECG meat grinder, you simply get complete equipment for preparing meals that you and your loved ones will enjoy.