Do you like the smell of perfectly made coffee and do you love its taste? Then the brand-new ECG ESP 20501 Iron has been created just for you.
ECG ESP 20501 Iron is a hot new product in the portfolio of kitchen appliances of our brand. This is an advanced coffee machine with which you can easily and quickly conjure up a cup of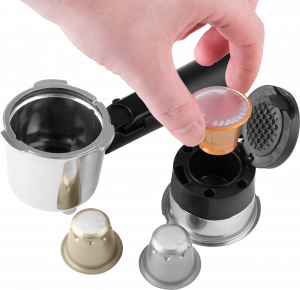 coffee in the comfort of your home, which will be exactly to your taste. The coffee machine manages to prepare not only an excellent espresso from ground coffee, but also a delicious cappuccino or latte macchiato thanks to the rotating steam milk frothing nozzle. And to top it off, it is also compatible with portioned coffee in ESE pods and with Nespresso capsules.
Premium design, good price
Despite its favorable price, our new coffee machine boasts premium processing, which will win the heart of every coffee lover one hundred percent. Among other things, the ECG ESP 20501 Iron offers a robust lever with interchangeable filters, professional pressure pump (20 bars) or second lever, which also has a special adapter for Nespresso capsules. Add to all that also the thin design with elegant stainless-steel finish and you have a coffee maker that will really fit everywhere and definitely should have a place in your kitchen.

Coffee like from a barista
You no longer have to go to cafes for perfectly prepared coffee. With the new ECG coffee machine, you can prepare it at home. This is made possible by a number of above-standard features of this machine, including fast pre-brewing, cups heating as well as the option of making two cups of coffee in the same time.
Of course, there is also the simplicity of the operation, thanks to which anyone and everyone can operate this machine – you can access an amazing coffee via intuitive backlit buttons in the upper part of the machine and rotary selector on its side. A stylish blue color light bar informs you about the current operation of the coffee maker.
Try the coffee maker ECG ESP 20501 Iron yourself and enter each new day with a delicious cup of coffee that will put smile on your face in the morning.