You will be a star with the new grill KG 1000 Gourmet.
Juicy steak prepared on your home grill is nothing unusual nowadays. Grilled meat, vegetables and other specialities are more and more prepared at home and in quality that often rivals good restaurants. Many of us already own a grill and start the grilling season immediately with the beginning of summer temperatures, when weekend gastronomy usually moves out – that is to gardens, terraces, gazebos or pergolas. Electric contact grills are becoming increasingly popular, extending the barbecue season to a whole year as one of the benefits. You can enjoy grilling any time when you think of it regardless of the weather.
The newest addition to the family of contact grills is the model ECG KG 1000 Gourmet. This grill is ready to be your guide in the world of grilling. You can cook sausages, steaks, grilled eggplant or zucchini on a professional level.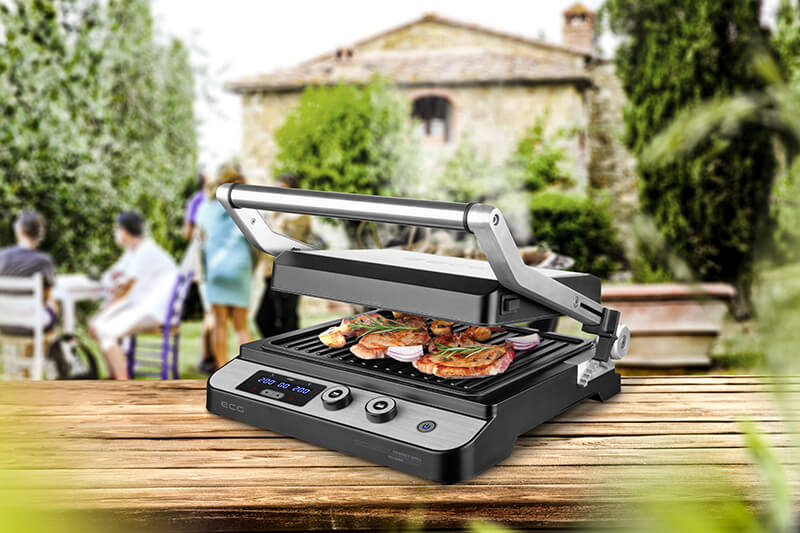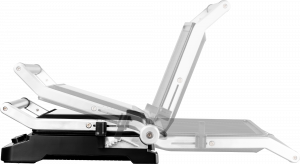 You have a choice of several operating positions. Therefore you can use the grill for more ways of cooking food, especially meat. The most commonly used mode will be classic grilling, with the option of closing the upper part and preventing quick loss of heat. Thanks to the option of setting the top plate in 5 positions, the grill allows contactless baking, which you can use to finish a crispy crust or, for example, to bake mozzarella cheese on grilled zucchini. Most often, during a garden party, you will choose to grill on a completely open grill, called barbecue or BBQ in grilling terminology.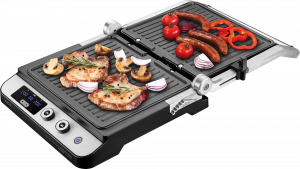 A mode where you completely unfold the grill horizontally and get two open barbecue areas, allowing you to prepare various grilled specialities in the same time. Thanks to the possibility of independent temperature adjustment for the upper and lower grill area, you can work with different temperatures when you unfold the grill and prepare meat in one part and vegetables in the second grilling area. The range of operating temperature is from 60 to 230 °C.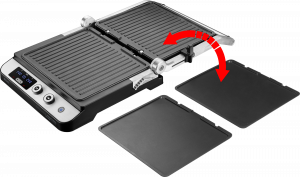 The grill is equipped with two sets of grilling plates which can be exchanged. You have a choice between flat or profiled plates. Thanks to the special coating of the grill plates you can grill meats nearly without oil. The non-stick area of the grill surfaces is a pleasant feature that you will appreciate not only when preparing the food on the grill, but also during subsequent cleaning. Cleaning is also made easy by the option to remove the grill plates from the grill, which makes cleaning the grill simple and there is no downside to the grilling fun – like unpleasant cleaning of a dirty grill could be.