The historically first line of ECG smart TVs is here. Meet devices that can become multifunctional platform of your home entertainment. You can look forward to a great picture, elegant design, but most importantly to a slew of smart functions and technologies thanks to which you can enjoy audiovisual entertainment exactly matching your taste.
The ECG Company sees the introduction of its historically first line of smart TVs as a major event. And because the development of Smart TV ECG has succeeded really well in all aspects, we believe that these modern devices will soon find their satisfied users.
And what can our new smart TVs offer? Let's shine a strong light on all 5 new models…
Enjoy web services
Since the new ECG TVs belong to the category of smart devices, they offer much more than just ordinary TV reception. They can be connected to the Internet, which opens the door to an inexhaustible amount of web content.
Unlike many competing devices, all ECG smart TVs excel in flexibility of connection. Through the integrated Wi-Fi receiver, they can be easily connected to a wireless network, but they also have an RJ45 (LAN) connector, which also allows a classic cable connection.
But whether you provide for ECG smart TV the Internet wirelessly or choose a cable connection, you will gain the option to use a wide range of popular web services. You can browse videos stored on YouTube, watch your favorite movies and series on Netflix and Amazon Prime Video, or just browse the web in a pre-installed web browser. All on a large TV screen and from the comfort of a sofa or armchair.
Easy control
All ECG smart TVs are equipped with a reliable Linux OS. It is a fast and clear environment in which even less technically proficient users can easily find their way around. Smart TV ECG control will simply be a breeze for you.
In addition, the well designed remote control with all the necessary buttons also supports simple operation, including special YouTube and Netflix keys. You can access the content of these popular services at any time with a single touch.
The popular USB functions are also available
The main advantages of ECG Smart TV are, of course, modern smart features. However, features that users of older models of our televisions praised highly are certainly not missing. That is why ECG smart TVs are also equipped with a classic USB interface.
And to top it off, ECG smart TVs have a handy multimedia player installed for you, with which you can also watch movies from USB drives.
All five models of our new smart TVs have two USB ports. You can thus use two flash drives at once.
Saves you money
You will also appreciate the very economical operation of the new ECG smart TVs. All new models excel in low energy consumption, which puts them in energy-saving class A, or even A+. If you then take into account also the cost of its operation when choosing a television, you have another argument for choosing an ECG Smart TV.
Connect other devices
Have you heard of the HDMI interface before? If not, know that this is a modern way of transmitting video and audio from one device to another at the same time, without unnecessary loss of quality. Each smart ECG TV is equipped with three HDMI ports, so you can easily connect everything you need to it.
Among other things, you can connect the TV to a game console and fully enjoy playing video games. Or connect a Smart TV to the soundbar to give it great surround sound. Or maybe use a Blu-ray player and enjoy watching your favorite movies. There are simply many ways to use the HDMI interface.
In addition, the connector equipment of ECG smart TVs also includes a classic optical output, AV in connector and headphone output.
So you can turn your TV into a versatile base to which a you can connect a number of other electronic devices.
Three ways TV classics
When it comes to watching classic TV programs, in the case of ECG smart TVs, you have a choice of three options. You can use classic terrestrial broadcasting, cable and satellite.
If you choose the first option (receiving terrestrial broadcasts from a conventional antenna), you can of course count on support for the new DVB-T2 standard and H.265/HEVC encoding.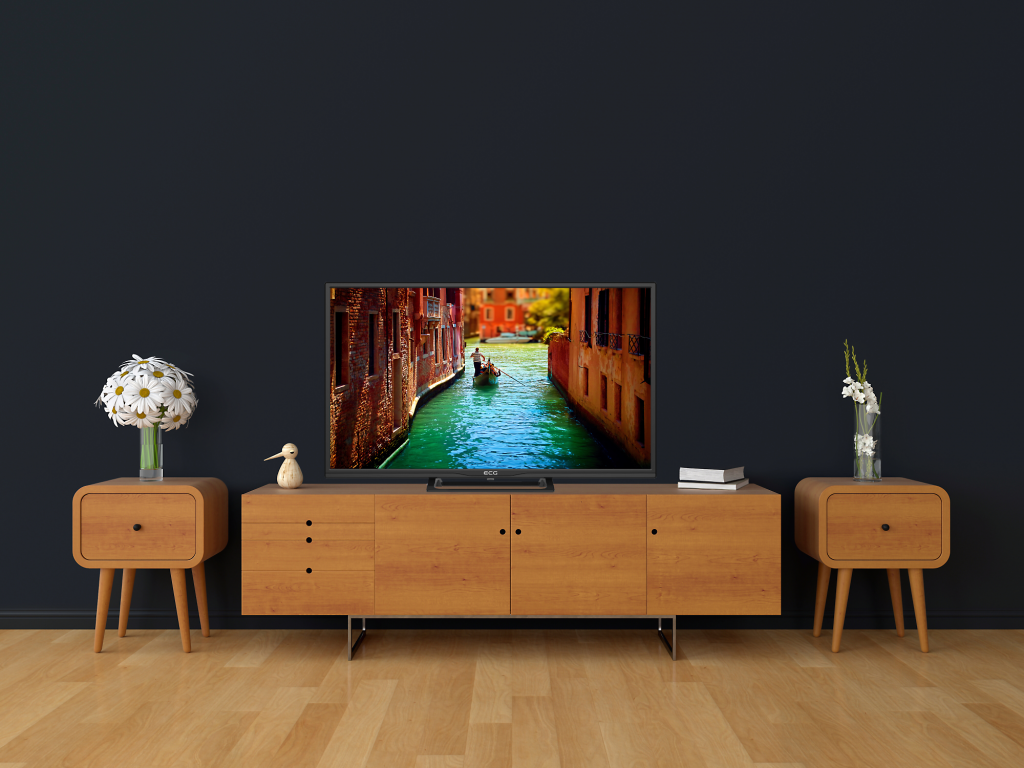 5 variants of ECG Smart TV
The historically first line of ECG smart TVs includes 5 different models. We have already mentioned the parameters that all these devices have in common above. But now let's look at their differences.
At first glance, it is clear that the individual models differ in the size of the diagonal – Smart TV ECG is available in variants 24″ (61 cm), 32″ (82 cm), 40″ (102 cm), 43″ (109 cm) and 50″ (127 cm). Therefore, devices are available for smaller and larger living rooms.
The resolution of individual TVs is also related to the screen size. Smaller devices (24 and 32 inches) work with basic HD Ready resolution (1366 × 768 px), 40-inch TV uses higher Full HD resolution (1920 × 1080 px) and the two largest models (43 and 50 inches) boast top 4K Ultra HD resolution (3840 × 2160 px).
For each of the TVs, the resolution corresponds exactly to the size of the screen, so in all cases you will get a nicely sharp image with perfect colors and a perfectly balanced contrast.
Another aspect that distinguishes the individual ECG Smart TV models is their design. Three smaller models (24, 32 and 40 inches) have a classic frame and a stable center stand. In contrast, larger televisions (43 and 50 inches) are frameless and their position is secured by elegant legs.
In addition, the center stand or legs can be removed for each Smart TV ECG model. You can do this if you want to hang your TV on the wall. All of our smart TVs are compatible with the standardized VESA suspension system for this eventuality.
.
If you are excited about the new ECG smart TVs, but are hesitanting which one to choose, here is a brief overview of the most important things:
ECG 24 HS01T2S2
• 24″ (61 cm) diagonal
• Classic design with center stand
• HD resolution
• DVB-T2 (H.265/HEVC), DVB-C, DVB-S2
• 3× HDMI, 2× USB, Wi-Fi, RJ45 (LAN)
• Linux OS, YouTube, Netflix, Amazon Prime Video applications
→ MORE DETAILS
ECG 32 HS01T2S2
• 32″ (82 cm) diagonal
• Classic design with center stand
• HD resolution
• DVB-T2 (H.265/HEVC), DVB-C, DVB-S2
• 3× HDMI, 2× USB, Wi-Fi, RJ45 (LAN)
• Linux OS, YouTube, Netflix, Amazon Prime Video applications
→ MORE DETAILS
ECG 40 FS01T2S2
• 40″ (102 cm) diagonal
• Classic design with center stand
• Full HD resolution
• DVB-T2 (H.265/HEVC), DVB-C, DVB-S2
• 3× HDMI, 2× USB, Wi-Fi, RJ45 (LAN)
• Linux OS, YouTube, Netflix, Amazon Prime Video applications
→ MORE DETAILS
ECG 43 US01T2S2
• 43″ (109 cm) diagonal
• Frameless design with elegant legs
• 4K Ultra HD resolution
• DVB-T2 (H.265/HEVC), DVB-C, DVB-S2
• 3× HDMI, 2× USB, Wi-Fi, RJ45 (LAN)
• Linux OS, YouTube, Netflix, Amazon Prime Video applications
→ MORE DETAILS
ECG 50 US01T2S2
• 50″ (127 cm) diagonal
• Frameless design with elegant legs
• 4K Ultra HD resolution
• DVB-T2 (H.265/HEVC), DVB-C, DVB-S2
• 3× HDMI, 2× USB, Wi-Fi, RJ45 (LAN)
• Linux OS, YouTube, Netflix, Amazon Prime Video applications
→ MORE DETAILS