Introducing the new ECG wireless coffee grinder. It is called KM 150 Minimo, it is waiting for you in two colour variants and thanks to its smaller dimensions it is ideal for travel.
Imagine a device that allows you to enjoy the taste and aroma of freshly ground coffee not only at home or in a cafe, but also anywhere on the road. That is exactly why we created for you the ECG KM 150 Minimo portable grinder – a compact device which can grind your favourite coffee beans in places which did not up to now come to your mind.
You finally have the opportunity to enjoy excellent espresso, delicious cappuccino with whipped milk, but also classic Turkish coffee with all the trimmings in a campsite, hotel or family apartment by the sea.

For coffee lovers on the road
This is a nice appliance that you can always have on hand thanks to its compact design. It weighs only 0.4 kg and its dimensions are 185 × 74 × 74 mm, so it fits easily into any suitcase, backpack or even a handbag. No matter where fate takes you, you can always pull it out and grind fresh coffee from selected beans.
The input hopper of our travel grinder can hold up to 30 g of coffee beans. The finished ground coffee is then collected in a 120 ml container. The tiny electric motor of the grinder works with a power input of 13 W.
The device is suitable for preparing coffee beverages in espresso machines, percolators, drip coffee machines and French presses. So it doesn't matter how you prepare your favourite aromatic beverage – in cooperation with the ECG electric grinder, you will always enjoy the aromatic cup to the fullest.
The trouble-free use of our new travel grinder is helped by its battery operation, thanks to which you do not need an electric socket to grind coffee. Everything works using a built-in Li-Po battery (3.7 V), which boasts capacity of 1250 mAh and you can charge it using the universal interface USB-C (the cable with the appropriate connector is part of the basic package). Thanks to the special fast charging technology, you never wait unnecessarily long for new energy – the grinder's battery will charge to the full hundred percent in an hour and a half.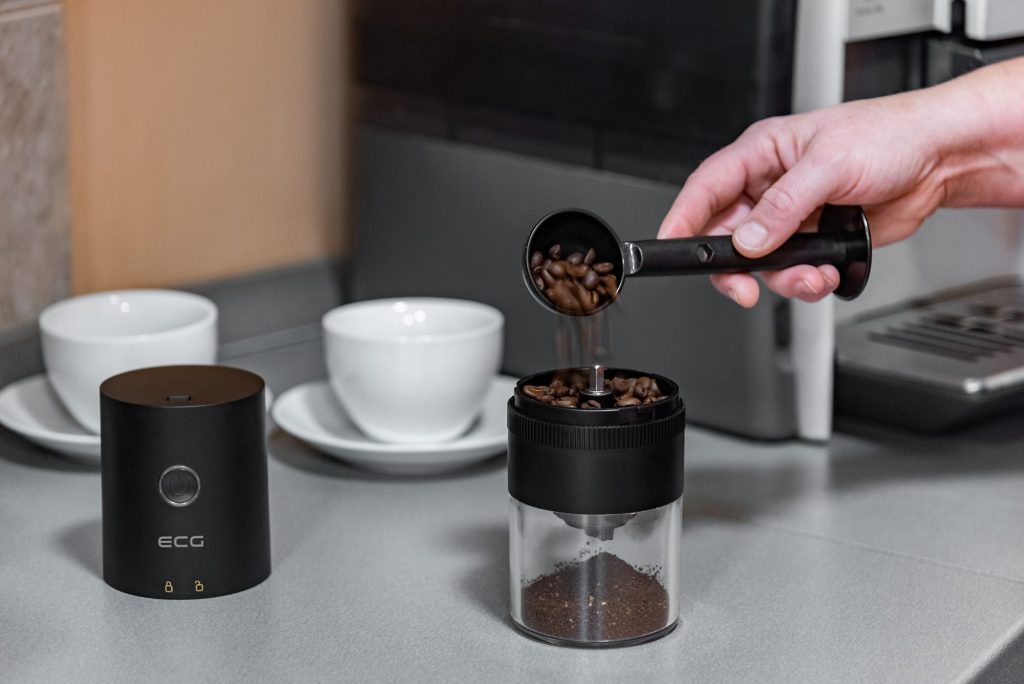 Electric grinder with efficient grinding stones
The coffee beans that you pour into the ECG travel grinder can be ground with meticulous care by this handy device. It uses conical grinding stones made of high-quality ceramics to crush them, which reduce temperature during grinding preserving the natural taste and aroma of the coffee.
You can yourself set the coarseness of the grind and you have selection from ultra fine to extra coarse.
It does not disturb with unnecessary noise
When listing the advantages of the ECG KM 150 Minimo coffee grinder, we must not forget its surprisingly quiet operation. We managed to get the noise level of this device below 65 dB, therefore it is a device whose normal operation does not disturb you or your surroundings.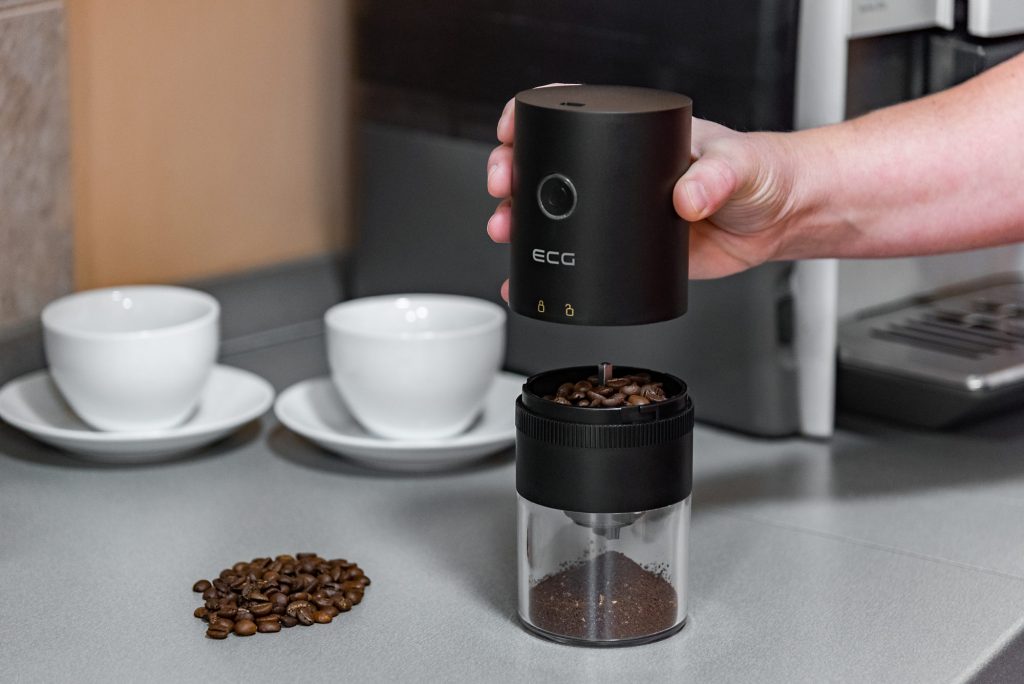 Elegant minimalist design
For you to take the compact ECG grinder on vacations, outings or business trips, we selected a very minimalist design for it. Minimalist or not, it is an elegant small appliance, whose appearance will catch your eye at first sight.
The grinder is available in the ECG product portfolio in two colours, so you can choose the version that better suits your taste. You can choose either noble black, or clean white colour.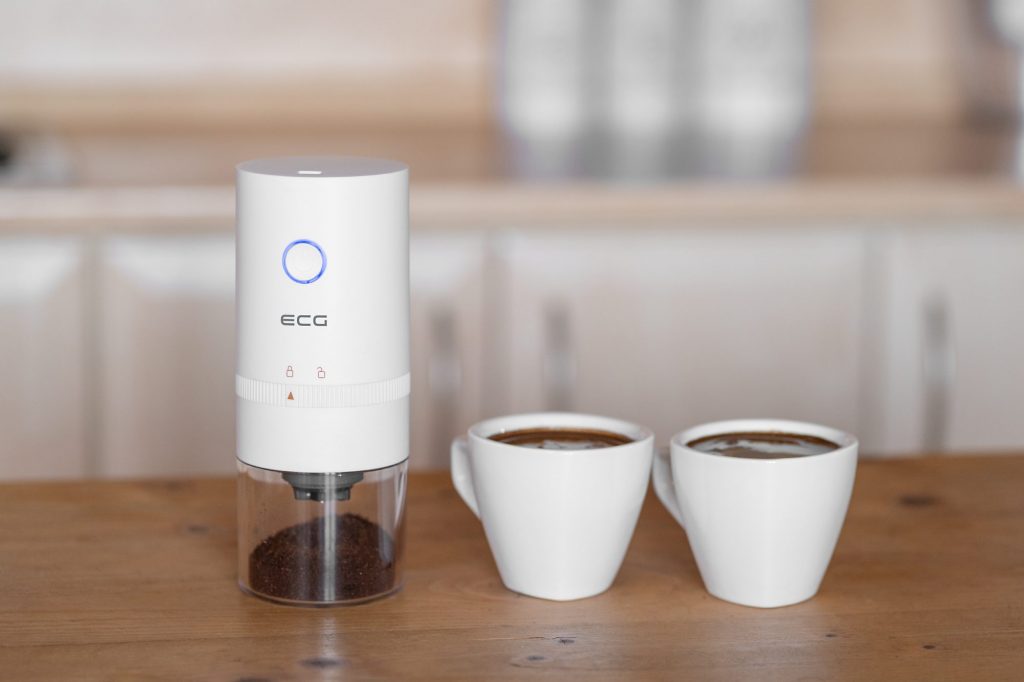 You can easily handle maintenance
We have developed our new electric coffee grinder for a simple reason – so that you can grind coffee beans anytime and anywhere and then enjoy a cup of your favourite coffee in peace. Nothing more, nothing less. That's why we've made sure that maintaining this device doesn't take more time than necessary.
We made the grinder with removable parts and this makes its cleaning significantly easier. And to top it off, we included in the package a special cleaning brush, which makes the grinder's maintenance a breeze.