ECG presents a new range of kitchen robots. They carry the FORZA label and, with their equipment, performance and design, they loudly claim the attention of all enthusiastic chefs.
The family of ECG kitchen appliances grew by three new members. We've just launched a brand-new line of kitchen robots that have the potential to take your cooking to the next level. Meet ECG FORZA and unleash your gastronomic fantasy to the fullest.
All three ECG FORZA kitchen robots boast an extra strong motor made of pure copper and a large mixing bowl, so you can use them with confidence for preparation of many different dishes. Even in a big way. After all, the range of various accessories available in the basic package with all models will assist you.
What else do you get with the ECG FORZA kitchen robot? Let's mention at least the reliable meat grinder, a practical drum grater or perhaps a special cookie and shortbread cutter. And that is far from all. Among other things, each of the models is also compatible with a pasta maker, which you can buy with the robot if you are interested.



Robust processing as the basis of quality
Our new kitchen robots boast top-notch craftsmanship, thanks to which you can rely on them for many different activities. They handle easily kneading dough, grinding meat or even grating fruit thanks to all-metal gears, robust body eliminating vibrations and shocks and also anti-slip feet with suction cups, which guarantee stability.
Perfect mixing of all ingredients
Whether you're whipping cream or mixing cake dough, with a kitchen robot from the ECG FORZA series, you're sure to mix all the ingredients perfectly. That is thanks to the planetary rotation system which consists in the simultaneous rotation of the attachments around their own axis and around the axis of the gearbox.
So that you can accurately adjust the operation of the appliance to your current activity, each of our new robots also offers several speeds. And on top of it, there is also a practical pulse mode.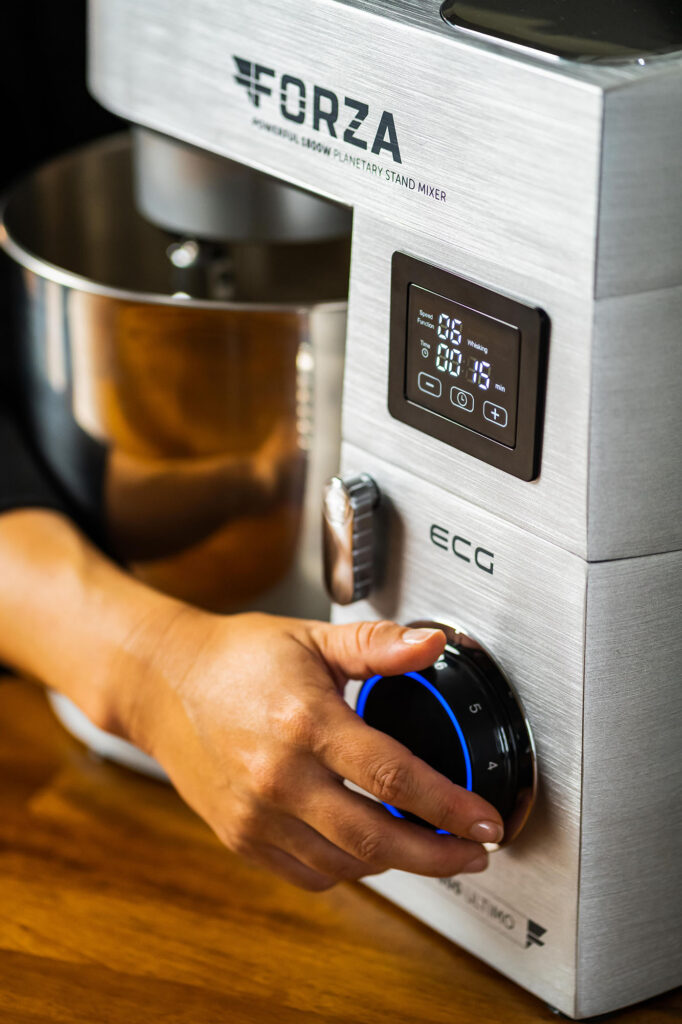 Trouble-free operation
Despite their robustness and high performance, robots from the ECG FORZA series can also boast of completely safe operation. The technology of smooth start of the motor, the welcome vibration elimination or the lifting mechanism with safety switch take care of it.
Our new robots also work surprisingly quietly, therefore you do not disturb your surroundings with your gastronomic arts.
Controls? Child's play!
You will also appreciate the easy operation of the new ECG robots, thanks to which even less experienced cooks can use these appliances without difficulty. A touch control panel and integrated LED display, where you have all essential information like on a palm of your hand when you are making your favourite dishes, is a matter of course for all models.
Cooking or baking will also be made easier by the practical timer function, thanks to which you do not have to monitor the robot's performance constantly. If, for example, you are preparing homemade whipped cream, you simply set the exact whipping time and you can count on a perfect result.



Meet: ECG FORZA kitchen robots
Under the ECG FORZA brand, we are launching three models of kitchen robots. Let's briefly introduce their main advantages.


ECG FORZA 5500 Giorno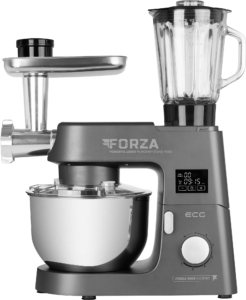 The ECG FORZA 5500 Giorno kitchen robot will delight you with its powerful motor 1500 W, wide range of accessories and also a large mixing bowl, which, thanks to the 6.5 l volume, can hold a really large amount of ingredients.
The robot's equipment also includes a blender with which you can make at any time an excellent smoothie. The blender also boasts high-quality stainless-steel blades and a high-quality 1.5-litre glass container.
ECG FORZA 6600 Metallo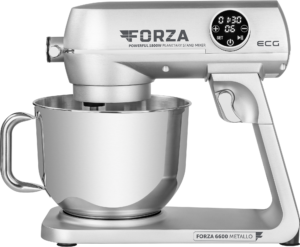 In the case of ECG FORZA 6600 Metallo kitchen robot we also paid a special attention to design besides the very powerful motor 1800 W and accessories. If you also choose appliances for your kitchen according to style, this helper is perfect for you.
We have also included a rich collection of accessories with this robot, which will open a door for you for many great culinary experiences. Among other things, you can use a kneading hook, a stainless-steel whisk, a whisk or a rubber whisk with a spatula for mixing creams.
ECG FORZA 7800 Ultimo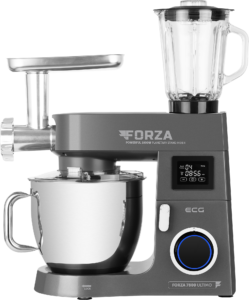 The top model from our new range of kitchen robots is called the ECG FORZA 7800 Ultimo and it seriously has a lot to offer. It will delight you with a large mixing bowl with whole 8 l volume, also a very powerful motor (1800 W) and last but not least with its robustness, thanks to which it can pass even the most demanding cooking tests.
Naturally, it has a lot of interchangeable accessories, including extra large whisks. They easily reach the bottom of the bowl, eliminating unwanted dead spots during mixing or kneading.
We believe that ECG FORZA kitchen robots have something to offer you. Welcome one of them into your kitchen and make cooking an activity that is easy, creative and functional.