American side-by-side refrigerator ECG ERS 21780 NIXA + is the favourite to become a star of your kitchen. Timeless stainless look, pleasant design and volume, which will appeal to numerous families.
Sophisticated interior
The refrigerator boasts a total volume of 510 litres, the cooling part is 327 l. In the interior are shelves made of high quality solid glass. Extra spacious drawers will serve for storage of fruits and vegetables.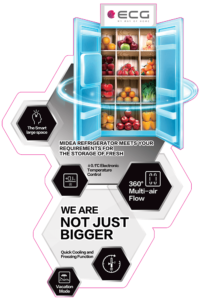 You can get a perfect overview of stored food with powerful and economical LED lighting. The appliance features Super Cooling – fast chilling.
Your stored food will cool quickly, preserving its natural flavour and aroma. Not only families with children will appreciate the surface treatment that prevents fingerprints from sticking. The door features intuitive controls with a display that makes it easy for you to set up the appliance.
Plenty of ice for every day
The very spacious freezer has a usable volume of 171 litres and can freeze 10 kilograms of food in 24 hours. It will not be stymied even by electricity outage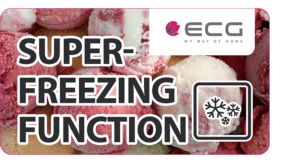 and the optimal temperature suitable for storing food will last up to 10 hours! The additional bonus is the XXL rotary ice maker. Ice cubes fall from it like a waterfall and with a drink in your hand you will also greatly enjoy tropical days! A great feature is the Super Freezing – freezing food fast  for preserving their flavour and texture.
Where air flows evenly
 The American refrigerator ECG ERS 21780 NIXA + is the perfect helper for your home. Its innovative System Multi Air Flow 360 ensures an even flow of air in the cooling section. All the food in the different corners of the refrigerator gets an optimum dose of cold air. The above-standard equipment also includes a quiet, high-performance inverter compressor and low energy consumption.
STOP defrosting
The unpopular defrosting  ends with the unique Total No Frost technology! The cold and dry air in the freezer compartment has such an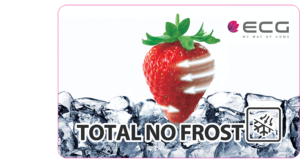 optimal flow that no ice crust appears on the food and appliance walls. The refrigerator is equipped with a special Dual cooling system – it has two separate cooling circuits. So, when you leave for your holiday, you can activate Holiday mode. Only the freezing part will run while the cooling power is reduced to a minimum.
You save with this refrigerator
The American side-by-side ECG ERS 21780 NIXA + refrigerator will please you not only with its ample equipment and high performance. You will also be fully satisfied with its economical operation, which makes it a class A + and therefore does not burden your family budget. In addition, this model will work perfectly at temperatures from 10 to 43 ° C. It belongs to all climatic classes SN, N, ST and T.