On Saturday 22 July 2017, ECG took its roadshow to Český Krumlov where it organized a pleasant and relaxing summery day not only for invited business partners, but also for all visitors of this popular spots, which take the city by storm, especially during the summer break.
The untraditional, yet intriguing combination of modern electronics and a historical atmosphere and beauty of a small town was received enormously well by visitors. The attractive environment of the historic pearl of the Czech Republic and the sunny summer weather guaranteed a large crowd. The traditional International Music Festival that takes place about the same time in Český Krumlov attracts many visitors from the entire country, as well as abroad. The ECG team provided live demonstrations of best-selling products under the open sky, in the very busy Latran Quarter, right in front of the Bellevue Hotel.
Members of the ECG brand team, in demonstrating selected products and portfolios, put on an exquisite performance. They clearly showed that no modern equipped household should be without ECG products. The beautiful weather, that lasted throughout the day, allowed the team to prepare taste samples.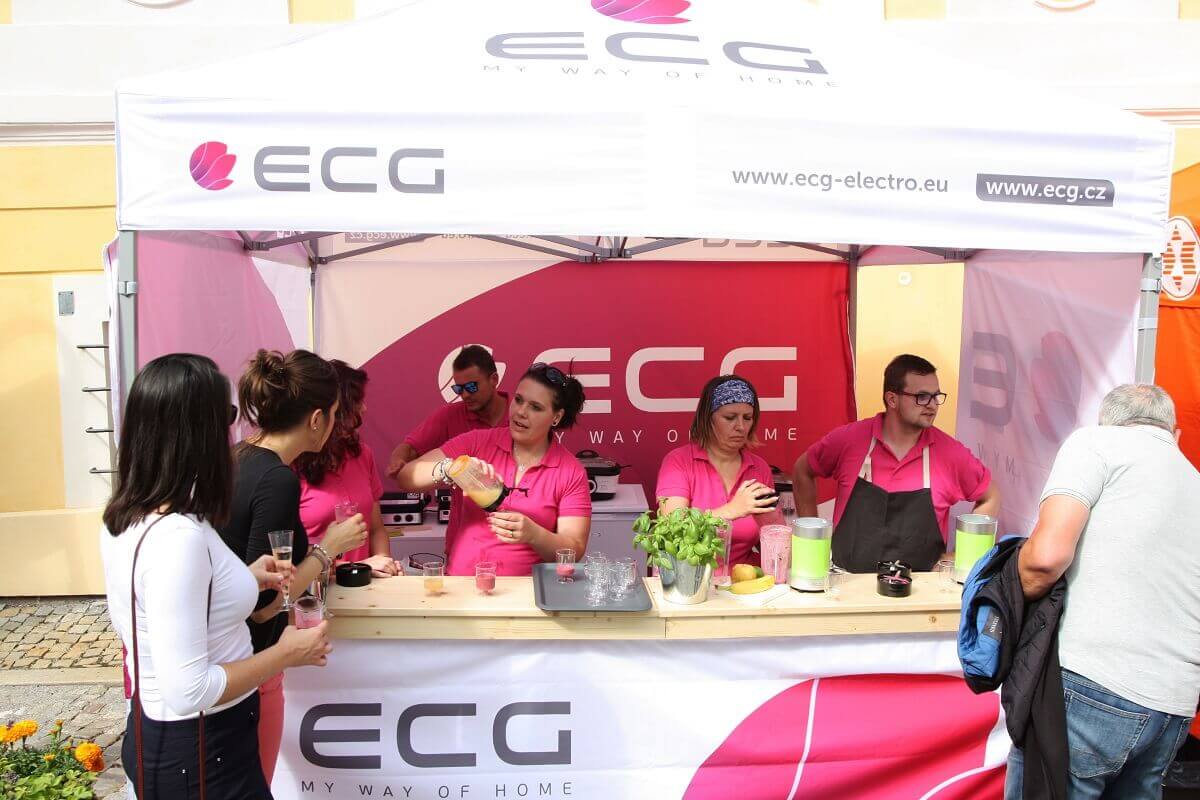 Visitors had the opportunity to see first-hand the preparation of refreshing and vitamin-loaded smoothie cocktails, which are becoming more and more popular, especially in the summer. Seasoned members of the ECG team prepared fantastic wild fruit smoothies for visitors to taste using the SM 900 Mix&Go smoothie mixer.
A proper "barbecue" session was also a must in this weather. And so one of our TOP rated products, the KG 400 Superior contact grill, also made an appearance. Visitors tasted excellent and professional-grade prepared Bavarian sausages directly from this grill.
Also among the demonstrated products was the MH 910 Delizioso multi-functional pot, which was used to prepare a delicious chilli con carne. The goal was to convince visitors that cooking with the ECG multi-functional pot is actually very easy and the end result is surprising.
Not only the guests, but also the members of our team soaked in the friendly and relaxed atmosphere throughout the entire day. Visitors got to experience ECG products from a practical perspective and marketing specialists answered all of their questions. Friendly discussions and genuine laughter could be heard from all corners. After the event ended, everyone that participated went home with a positive feeling.
The program for invited guests climaxed with the concert of Irish band Altan, one of the headliners at the International Music Festival.
Excellent organization, perfect demonstrations, accommodating and friendly talks made for a flawless day with an unforgettable atmosphere.