ECG brand expands its range with condensate dryer ECG ETF 1270 DA++ with innovative heat pump technology. ECG reacts to the requirements of their customers and make their products full of benefits, such as time-saving which makes their lives even more comfortable.

Thanks to the latest technologies it enables drying delicate fabrics such as wool, silk or functional clothing. There are 15 preset programs to choose from, so you can find an ideal program for any type of laundry. Next to the classic programs such as Cotton, Synthetics or Mix, it also offers special designed programs as Baby clothes, Rapid drying (45 minutes), Sportswear, Jeans or Shirts. The delayed start function is also included. The dryer adapts inner temperature and movements of the drum, so the laundry gets the best care with a maximum gentleness and efficiency. The illuminated 100 litres galvanized steel drum holds up to 7 kg of laundry. The dryer door can be opened to an angle of 170 ° for convenient laundry handling.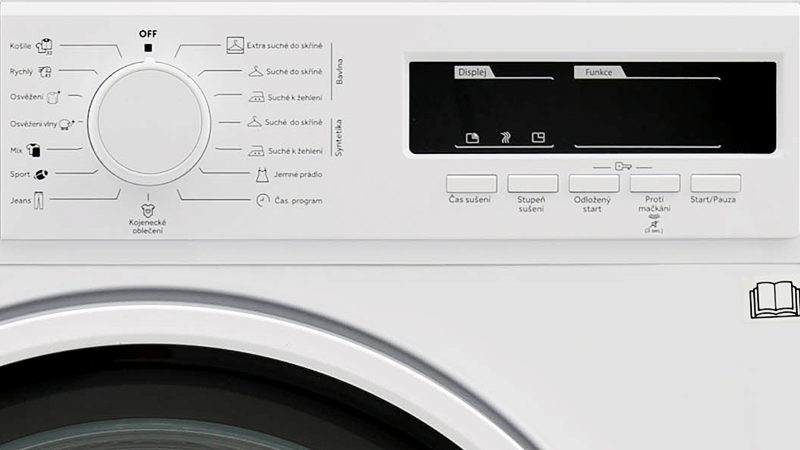 For ease of use, use the dial control to select the optimum program in no time. A large and clear LED display serves for perfect viewing of the selected program. The dryer is equipped with practical features that facilitate its maintenance. If it is not directly connected to the drain, the full water tank signalling will alert the user in a timely manner. The filter cleanliness signal indicates that the filter has to be cleaned so that the dryer does not reduce its performance due to a clogged filter.
The drying level can be left to the ECG ETF 1270 DA++ dryer or simply adjusted to your needs. You can choose from several drying levels – dry to the closet, dry for ironing or extra dry to the closet. All you have to do is select the desired drying level, and the special anti-crease system will ensure that the laundry wrinkling is kept to a minimum. The dryer also features a humidity sensor that guarantees the best results while preventing excessively long drying. This saves both clothing and energy consumption.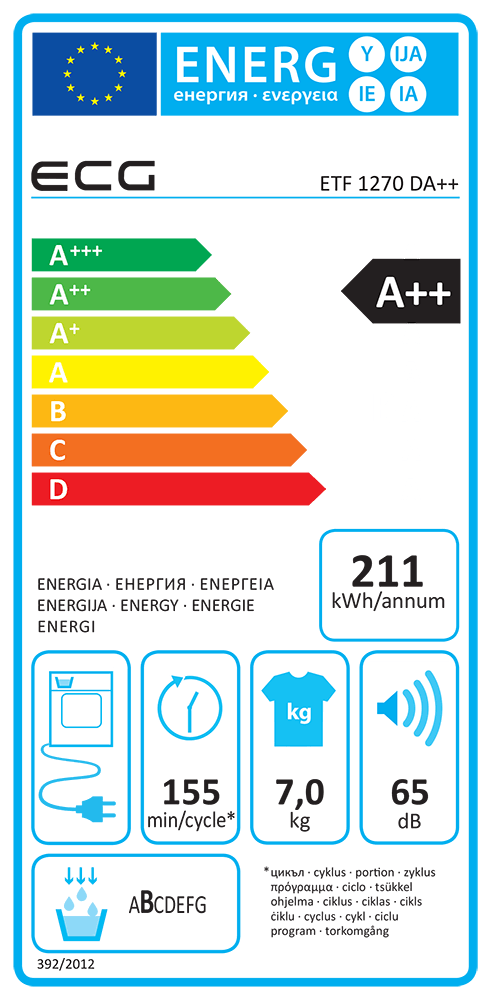 The ECG ETF 1270 DA++ dryer belongs to a very energy efficient A ++ energy class and consumes an average of only 211 kWh annually. To a significant reduction in energy consumption contributes a drying sensor that can detect the moisture content of the laundry and, if necessary, shortens the drying program and the heat pump, guaranteeing more than half the energy savings compared to dryers without a heat pump, which is more gentle for drying laundry at low temperatures.
The innovative design is perfectly matched to the new range of washing machines, thus forming a pair matched in design and functionality. When assembling products on top of each other to save as much space as possible, the original connecting part ECG ETF TMK 2W with a pull-out drawer can be used to connect the clothes dryer and the washing machine.