Here at ECG we love good food, and we've come to love slow cooking. That's why we're expanding our selection with 2 slow cookers.
If you haven't heard of slow cooking yet, it is an approach to cooking that brings a whole array of benefits. Slow cooking gives meals a richer taste and better nutritional value. And despite the name, slow cooking can actually be less demanding on your effort and even your time than regular cooking.
Before introducing our new slow cookers, let's talk some more about the slow cooking technique.
Slow Cooking Advantages
Slow cooking has been quickly gaining popularity among professional and amateur chefs alike. They say real quality is worth the wait, and that's certainly the case with slow cooking.
The actual technique consists of cooking meals very slowly, with the temperature below 100 °C (212 °F), so that the food's liquid content does not boil off. This also prevents many vitamins, minerals, and other essential compounds from being lost, substantially improving the finished meal's nutritional value. The lack of evaporation brings other benefits as well: less flavor loss, no risk of burning the meal, and no need to continually stir or add water.
While the total preparation time is on the order of hours, the vast majority of that does not require your attention. All you need to do is put all ingredients into a removable inner pot, insert that in the slow cooker, and put on the lid. The electric slow cooker will take care of the rest, while you can go about your day.
To sum up, these are the main advantages of slow cooking:
– Minimal loss of meal flavor or vitamin, mineral, and other nutrient content
– No risk of burning and no need to stir or add water
– Meat remains very juicy
– Less or no oil or fat needed to cook many meals
– All ingredients cook together in one pot
– While lengthy overall, the cooking process requires minimal tending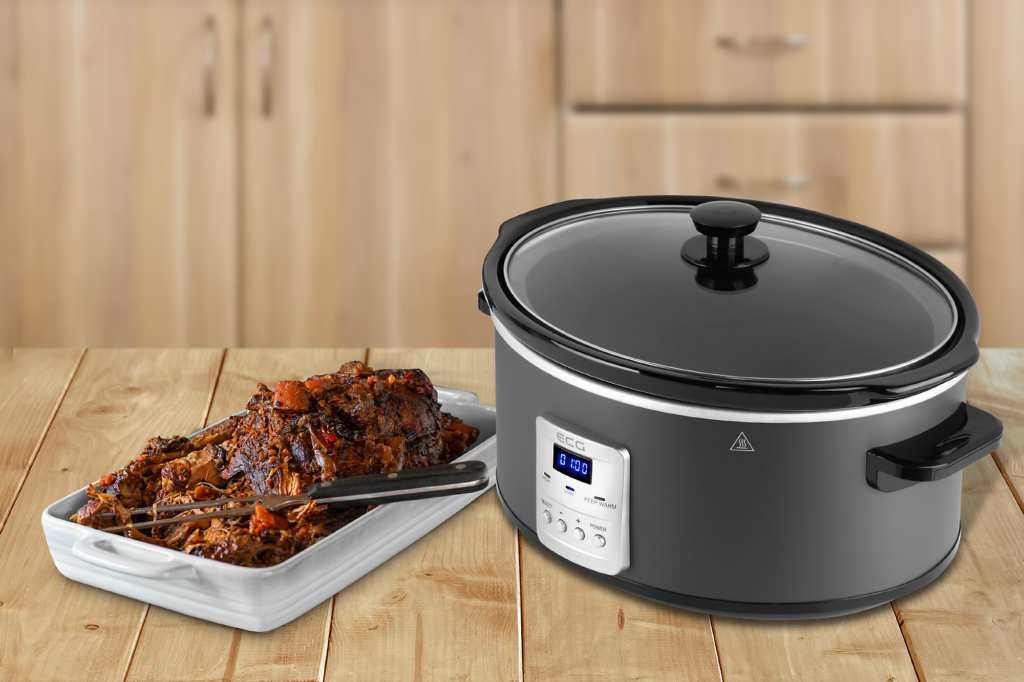 Slow Cooked Delicacies
A slow cooker lets you make a wide variety of tasty meals.
For example, a slow-boiled broth can be prepared by simply putting all the ingredients in the pot and letting the cooker run for a number of hours (overnight if you want). During this time, you don't need to tend the soup at all – once the timer runs out, just open the pot and enjoy your soup.
Slow cookers are also good for all kinds of meat, including poultry, beef, and pork. In every case, the meat will be very juicy and very tasty, and take in the best from whatever other ingredients you cooked it with.
Slow cookers can also make gourmet sauces, such as the sirloin cream sauce. Spread the vegetables around the bottom of the pot and put the meat on top whole. After some hours, the meat is cooked and you can use a mixer to create the finished sauce.
Many other meals can be prepared in slow cookers: desserts, jams, purées, clarified butter or bread pudding. Just use your imagination and discover your inner chef.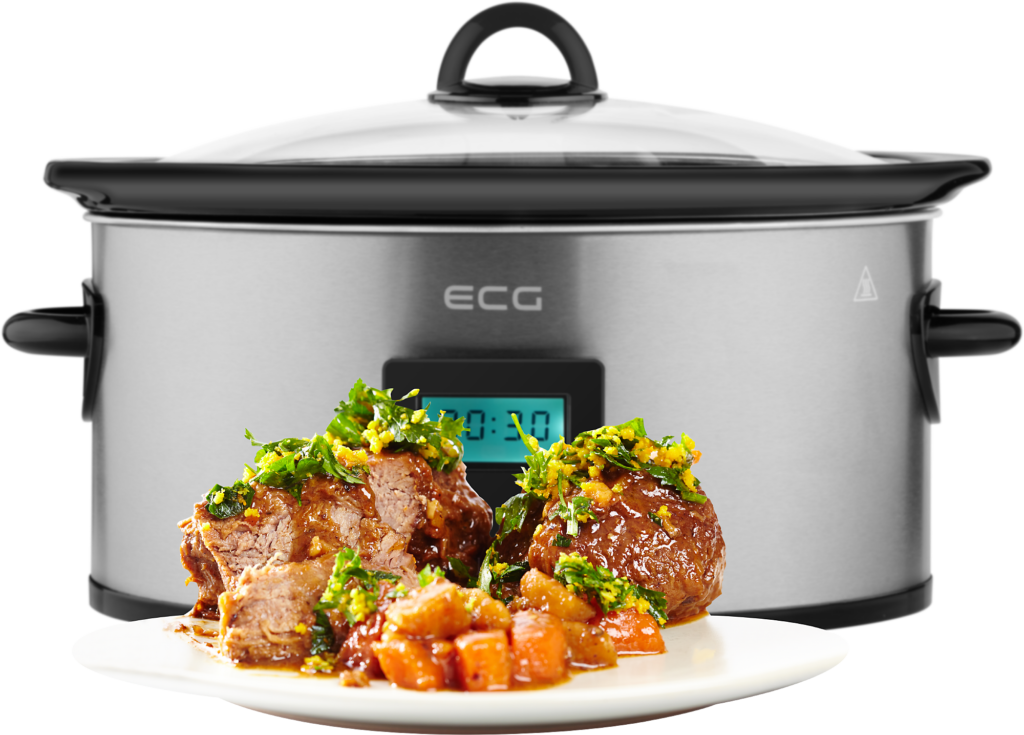 Meet ECG's Slow Cookers
Our new slow cooker models are the ECG PH 5510 Slow Rider and the ECG PH 6530 Slow Master. They are versatile tools for cooking, stewing, and baking. Both offer 3 operating modes (Low, High, Keep Warm), a timer, and easy control with an electronic control panel and LED display.
The removable inner pot is high-grade ceramic, the outer shell is stainless steel, and the lid is high-temperature glass. The handle is heavy-duty plastic and insulated from the cooker body.
Both models are supplied with a pair of shredder claws for easy preparation of genuine shredded meat.
Let's now look at the differences between the two models:


ECG PH 5510 Slow Rider
The ECG PH 5510 Slow Rider has a 5.5 liter (186 fl oz) inner ceramic vessel. The timer can be set from 30 minutes to 20 hours. It also has a delayed start feature (up to 24 hours), allowing you to plan cooking for when you need it.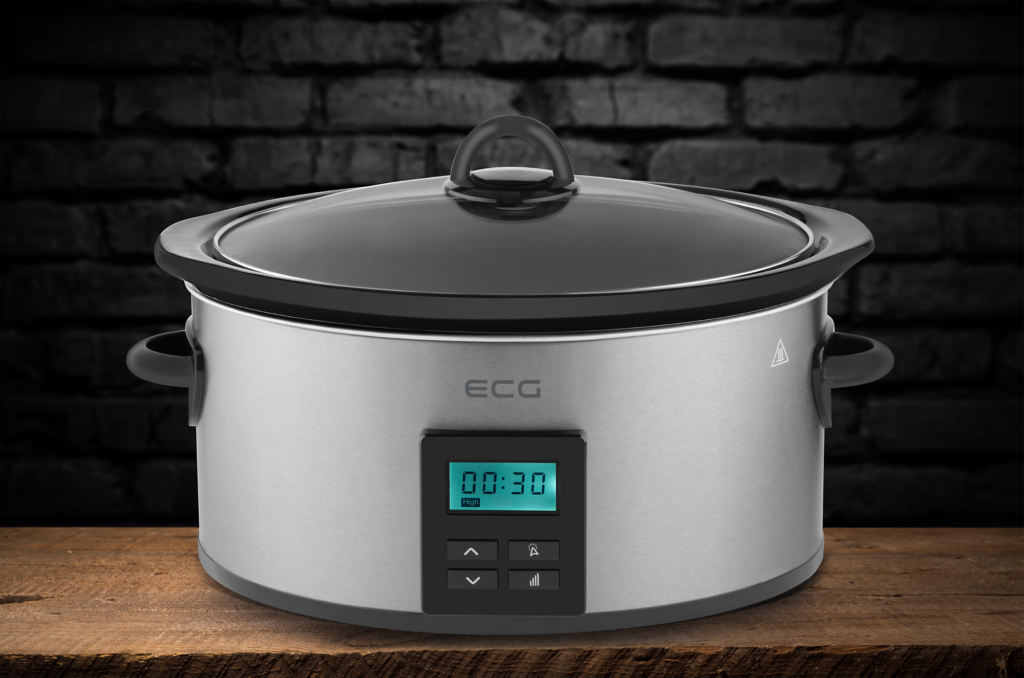 ECG PH 6530 Slow Master
The ECG PH 6530 Slow Master has a larger ceramic vessel (6.5 liters / 220 fl oz), making it suitable for larger households. The timer can be set from 30 minutes to 12 hours. Its elegant design will also make it a pleasure to look at on your countertop.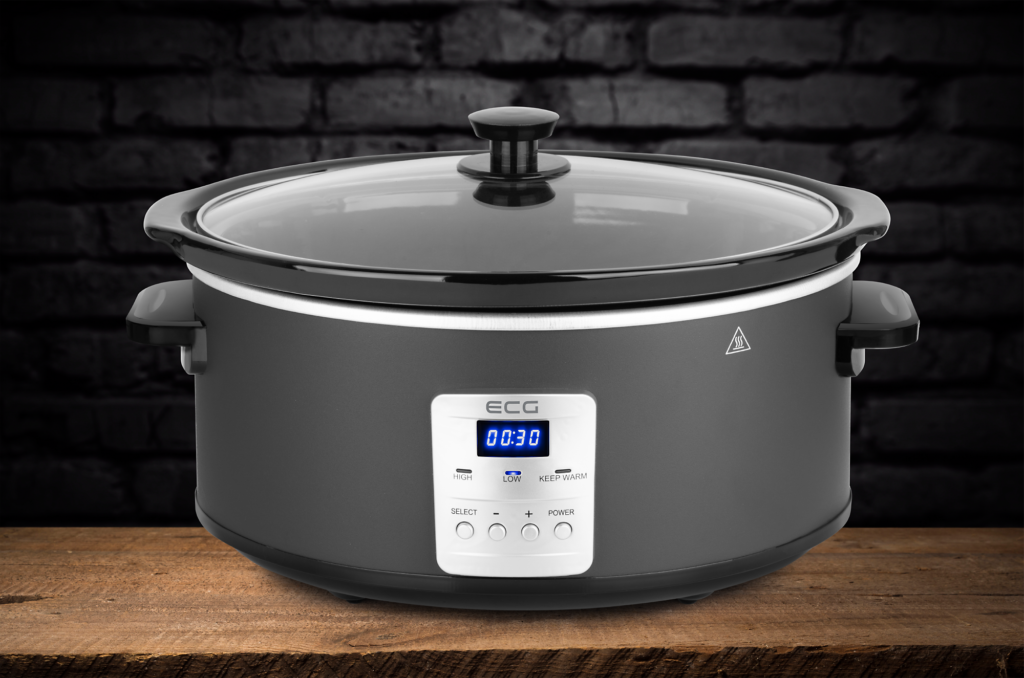 Get one of our new slow cookers and discover the benefits of slow cooking.